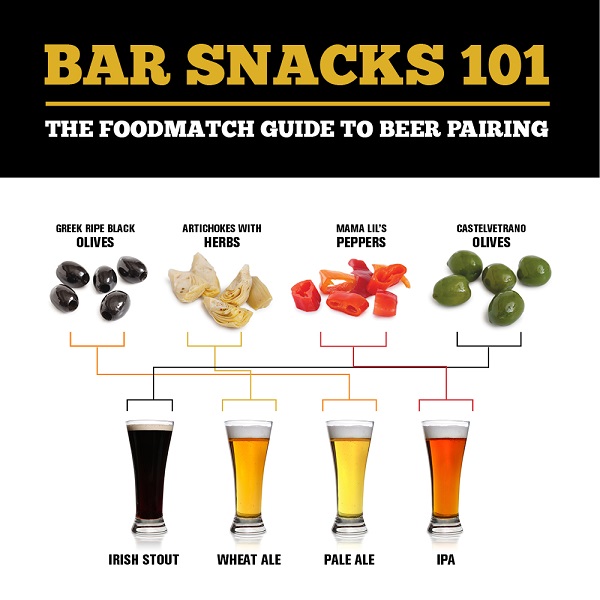 Ever been drinking beer and wonder what would pair perfectly with your drink? In this complete beer pairing guide, we'll show you exactly what to look for to complement your drinking experience. You'll discover the best beer pairing snacks, like Castelvetranos olives, and learn how and why different beer flavor profiles pair well with certain foods. Get ready to elevate drink and snack time with this beer pairing guide.
Castelvetrano Olives & Irish Stout:
When it comes to a dark and creamy Irish stout, Castelvetranos are the perfect companion. Their buttery, mild and subtly sweet flavor adds just enough brightness to the beer without being overpowered.
Artichokes with Herbs & Wheat Ale:
Our artichokes are crisp and fresh tasting with a zesty kick from a special mix of herbs, paired with a light wheat ale they elevate the mild flavor of the beer and create a harmonious flavor combo.
Greek Ripe Black Olives & Pilsner:
Pilsner is known for pairing well with a wide variety of foods, especially roasted meats and nuts. Our Greek Ripe Black Olives are both meaty and nutty tasting making them a match made in heaven for a slightly sweet European style pils.
Mama Lil's Pepper's & IPA:
Anybody who is a fan of Indian food will tell you how well IPA pairs with spice, and Mama Lil's Peppers are no exception. The spicy to sweet flavor of these peppers is enough to balance the hoppiness of a light IPA, making a complete taste that hits just about every note on the flavor spectrum.