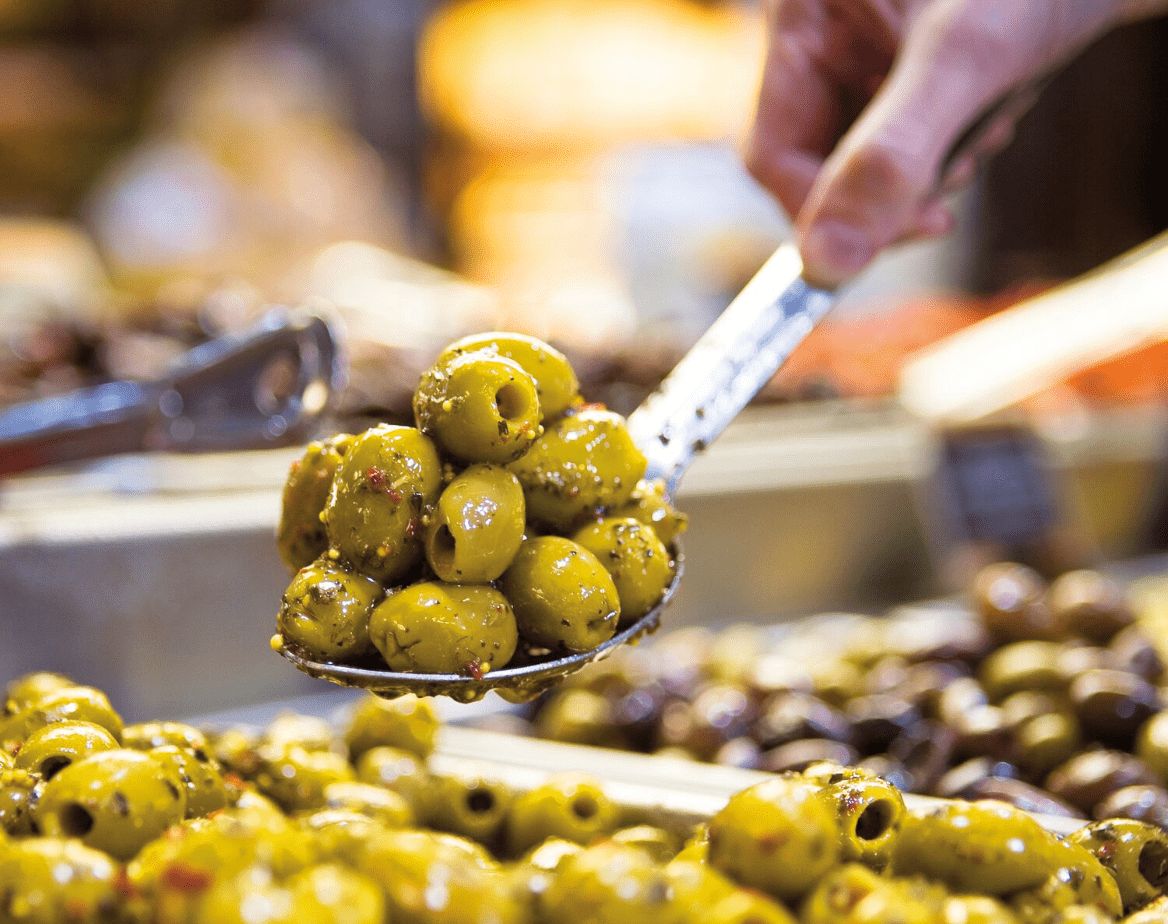 Mediterranean Olive Bar
& Antipasti Bar
As a pioneer of the Mediterranean Olive Bar & Antipasti Bar, FOODMatch and Divina are skilled at curating captivating displays (with products and point of sale) that surprise and delight your customers with a unique in-store experience. A Divina Olive Bar or Antipasti Bar are renowned for creating a destination display that offers quality, selection and value.
Deli Cups, Pouches & Prepack
One of the keys to creating a profitable and popular Mediterranean program is by providing multiple purchase points within the deli that take advantage of cross-merchandising olives, antipasti and spreads with cheese, charcuterie, crackers, etc. Our collection of grab & go cups, pouches and specialty jams are the perfect complement to the Mediterranean olive bar and antipasti bar. Divina deli cups and pouches activate your olive and antipasti program for online & delivery sales and ensure every customer can enjoy our program.
Prepared Foods
Divina olives, antipasti, spreads and ingredients are often the star ingredient on prepared foods staples like sandwiches, pasta, pizza and salads. We've prepped our Mediterranean ingredients to cut down on labor and time (pitted olives and sliced olives, sliced peppers, roasted garlic, roasted tomatoes, etc.) and ensured consistency and safety throughout the supply chain.
Bakery
From sweet to savory, we've got bakery covered. Divina olives, antipasti, sauces and spreads are a perfect way to elevate your pizza, bread and pastry programs.
Grocery
The Divina name is one of the most respected and recognized in the specialty food industry. In fact, Divina is a top 10 performing brand with exceptional growth in both natural/specialty and conventional grocery.
Varietal Olives
from classic Kalamata to our exclusive Frescatrano
Stuffed Olives
hand-picked and stuffed by hand with the best ingredients
Marinated
Entertaining Olives
innovative flavors like Bloody Mary & Buffalo Blue Cheese
Antipasti
roasted peppers and tomatoes, stuffed grape leaves and more
Spreads
savory selections like Olive Bruschetta and Muffuletta Salad
Condiments
finishing touches like olive oil and capers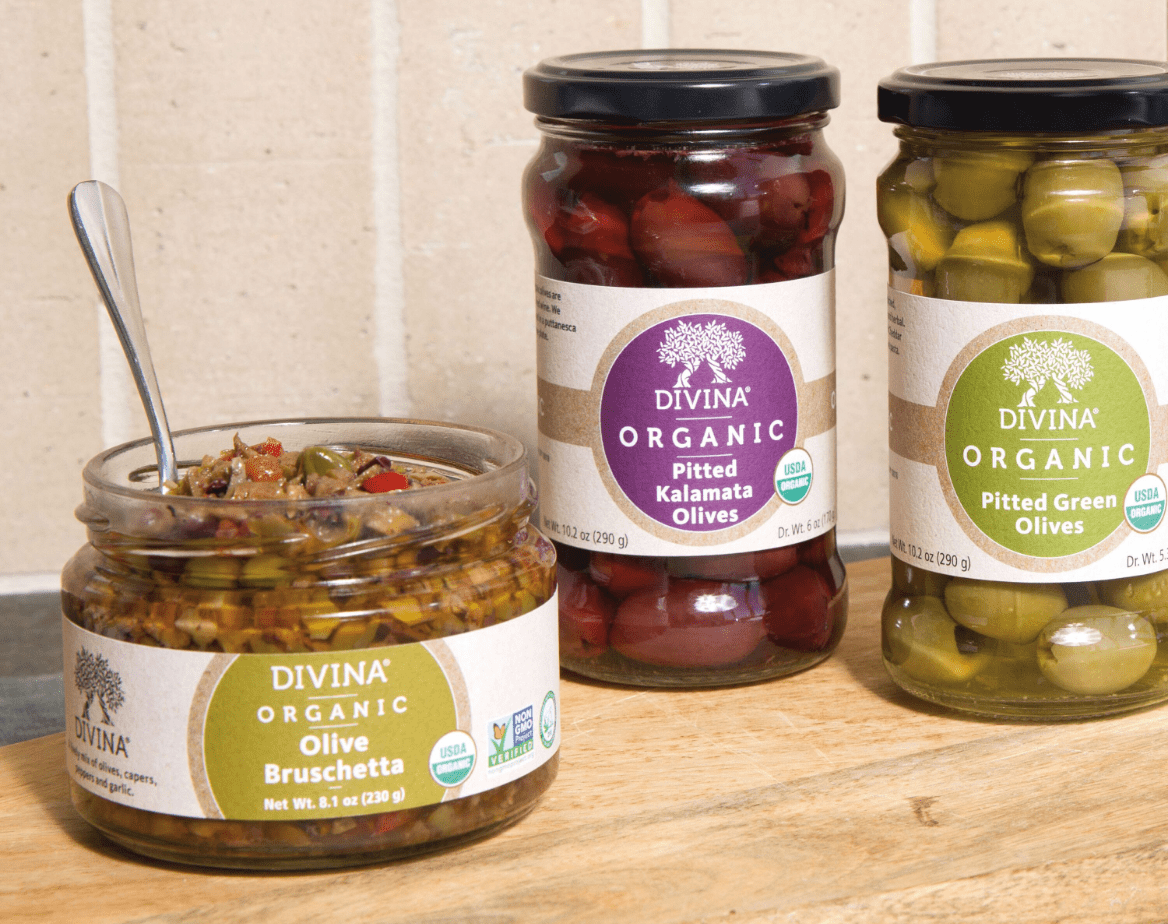 Did you know?
Plant-forward, fun & functional, Divina's Mediterranean olives, antipasti and spreads are on-trend and in-demand.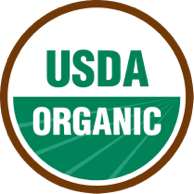 USDA Organic
We offer a full line of USDA Organic olives, antipasti and spreads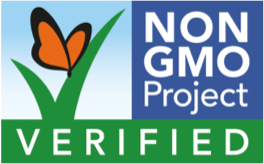 Non-gmo
Almost every Divina grocery selection is non-GMO Project verified
Experience the FOODMatch & Divina Difference
Our customer-first approach allows us to quickly respond the ever-evolving challenges facing your business.
Supplier of the Year
Recognition from multiple distributors & retailers

Private Brands & Custom Manufacturing
Expertise in Quality, Sourcing & Food Safety
From organic to kosher, non-GMO project certified and more, we produce, manufacture and import the definitive assortment of olives, antipasti and ingredients
Custom manufacturing and private brand opportunities are available
Transparency and consistency from Grove to Table™ - whenever possible (and that's most of the time), our products are harvested by hand and traditional crafted under the safest conditions
Best-in-class food safety protocols such as x-ray pit detection for pitted and sliced Kalamata olives
---
Marketing & Merchandising Services
Custom designed POS, training/education materials, display and print production for your olive bar or full Mediterranean program
An in-store field sales support team to help support retail accounts across the country
Thank you
We have received your request and someone from our team will contact you in the next 1-3 business days.
Request more information
A pioneer of the olive and antipasti self-serve olive bar, FOODMatch will collaborate with you to design a destination shopping experience that surprises and delights your customers.
Product Catalog
Like walking through a bustling outdoor market in the Mediterranean, we invite you to discover our award winning and responsibly crafted olives, antipasti and ingredients.
Browse Our Products